By Victoria Patneaude What if your favorite musician announced that they were gay? Would that bother you? Would it make you sell the tickets you had for their upcoming tour or throw away the posters that line your walls? Sodomy laws still exist in 13 states, and the debate over what people do with their own private lives is something that won't be going away anytime soon. History also proves that the matter of gay rights has played a key role in the music scene, keeping artists closeted — some until years after their death — and changing the aesthetic of musical performance. 
History In The Making
Glamorous pop and rock took hold in the 1960s, when the the gay rights movement had its beginnings. Organizations had started to come together for gay rights for the first time in the mid '50s, creating a new social movement centered on bringing gay culture to light. The Guardian's Alexis Petridis noted music of the time drew upon that culture through the advent of the gay rock manager in his article 'Straight and narrow: how pop lost its gay edge.'
"At a time when being gay was illegal, and the only way to live as an out gay man was to work in the theatre or as a hairdresser, pop management offered a new opportunity," Simon Napier-Bell, manager for Wham!, told Petridis in the early 2012 article. "So a lot of gays started to dabble in it."
With homosexuality being outlawed in many places around the world, often resulting in heavy fines and, in some cases, life prison sentences, it was dangerous to actually come out as a gay, or even be insinuated as gay. The famous piano man Liberace — known for his bedazzled suits, flowing capes and flamboyant demeanor — once sued Daily Mirror columnist William Connor for implying that Liberace was gay. Although actress Betty White said Liberace was gay on Joy Behar's HLN program 24 years after his death, he still won the settlement of £8,000, an equivalent £500,000 now (about $800,000).
The laws still didn't stop artists from pulling heavily from gay culture for their acts as they continued to add flair that would cause envy and make listeners want to be the musicians. "All the young guys in those days could see that gay men were a lot more interesting than straight men," Napier-Bell says. "They had nicer cars, more disposable income, flats that young guys could only dream of having, and no family to hold them back. Most kids aspired to have such a life – but of course, without the gay sex."
Rock star Freddie Mercury who was known for his theatrical streak and even the occasional bout of cross-dressing, as performed in Queen's video for "I Want To Break Free," was a testament to this. He was unapologetic in his use of dynamics from the '60s and '70s queer culture, and, while many acts fell victim to "media witch-hunts," as Adam Sweeting called them in the late rocker's obituary, Queen found their reputation to be enhanced. "This was because, behind the togs and the mascara, Mercury possessed unusual musical talent," Sweeting wrote.
Queen wasn't alone in the heavy use of the camp act. David Bowie himself came out as gay in his campaign for his alter-ego Ziggy Stardust just five years after laws on homosexuality had been removed. Coming out to Michael Waits for Melody Maker in 1972 dressed as Stardust in a skintight pantsuit and red plastic boots, the writer noted that he was "camp as a row of tents."
Yet four years later, Bowie turned around and told Playboy that he was bisexual. But the star continued to change the label of his sexuality, finally telling Rolling Stone in 1983 that he was "always a closet heterosexual" and considered coming out as bisexual as "the biggest mistake" he ever made.
"I don't think it was a mistake in Europe, but it was a lot tougher in America," Bowie told Clark Collis in a 2002 Blender interview, noting a difference in the two markets. "I had no problem with people knowing I was bisexual. But I had no inclination to hold any banners or be a representative of any group of people. I knew what I wanted to be, which was a songwriter and a performer, and I felt that became my headline over here for so long. America is a very puritanical place, and I think it stood in the way of so much I wanted to do."
Sexual headlines aside, Bowie became an icon for artists of the '80s who took androgyny and flamboyancy to the next level. "The case in the '80s was you did have a lot of androgynous or queer, but not necessarily openly gay, people in pop," says Peter Rehberg, a professor of Queer Visual Culture at the University of Texas. "Paradoxically, the mainstream success was only possible under the condition that this [sexuality] was not addressed."
One of the most famous examples of androgyny was Boy George, lead vocalist of Culture Club. Heavily influenced by Bowie and mastering the art of bending gender rules and wearing makeup, he catapulted the androgynous look into popular culture. "A lot of folks thought he was a girl," Miami New Times writer Kat Bein said in a list of 10 artists who have come out. "And as soon as embarrassed men realized their mistake, interviewers started questioning the singer's sexuality." George, however, strayed from directly answering, famously stating that he preferred "a nice cup of tea" to sex when questioned about the topic.
Fellow '80s artist Neil Tennant, main vocalist of the Pet Shop Boys, also sidestepped gay rumors throughout the height of the band's career, neither confirming nor denying them until 1994, when he came out in an interview with Attitude.
Rehberg says that even with their openly gay themes and music style, the band had to put off speaking out on their sexuality. (Though it should be noted that keyboardist Chris Lowe has never disclosed his orientation.) "It's pretty much the same fate as for actors in Hollywood," Rehberg says. It is a "violation of mainstream mass fantasy" if the actor actually turns out to be gay, he says. "That seems to be the same for pop musicians. The fantasy that is important for mass market, for teenage boys and girls, cannot be somehow effected by the gayness of the stars," Rehberg says.
Though artists made strides in the '80s by bringing gay culture themes into their music, the '90s were a completely different story as rock and pop took a step back from their glamorous predecessors to create the current state of music industry that we see. Rehberg explains one of the reasons behind this cultural "butching up" was due to HIV/AIDS. "Looking healthy, at least the normative idea of what health is, and becoming 'masculine' is all a reaction to HIV," Rehberg says. "The gay community wanted to prove their fitness as a strategy against stigmatization."
Award winning writer Jon Savage has his own theory on the decrease in queer culture features in pop and rock. "I think the crucial point about contemporary pop culture is that people are scared to be different because they'll be called gay," Savage told Petridis. He then continued to say that there is a "current mode of solipsism" in which the artists "don't want to be challenged" but would rather have their "own life reflected back" at them.
In Hiding
"I knew that I was in this popular boy band and I had four other guys' careers in my hands," Lance Bass told People magazine in 2006, when he graced a cover with the headline, 'I'm Gay.' "I knew that if I ever acted on it or even said, it would overpower everything," he says in the article. 
Though 'N Sync hit the scene, more than 30 years after the reforms of homosexual laws, Bass was still advised against coming out for fear his sexuality would hurt the band's sales.
"As long as someone is sold as straight, you can be outrageous and funny and even flamboyant but that's how it's sold and not stated as a real life identity because it simply means straight teenage girls will not buy the records of an openly gay male pop star," Rehberg says. "And if that's the target audience for male teenage pop stars like 'N Sync or other groups, than you can't do it because you're losing money."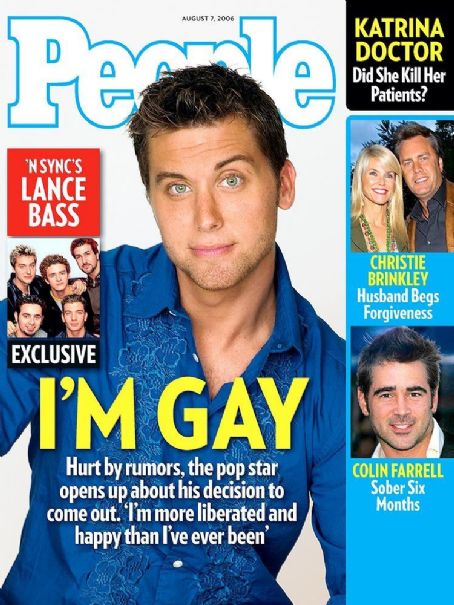 Bass, however, was not the first boy band member to be faced with the hardships of being a gay man marketed as straight for his target audience. Stephen Gately, member of the Irish boy band Boyzone, found himself outed in 1999 upon hearing a story on his sexuality was going to be sold to UK newspaper The Sun by one of the band's bodyguards. Louis Walsh, creator of the band, told the Irish Times in 2008 he had had no idea that Gately was gay at the time of choosing the members of the band but, "would have thought twice about choosing the singer" if he had.  "It wasn't cool then to have a gay guy in the band," Walsh told the paper. After discovering the truth of Gately's sexuality, Boyzone's PR put out "smokescreen stories" tying the young singer with female pop stars such as the Spice Girls' Emma Bunton and Mandy Smith, ex-wife of The Rolling Stones' Bill Wyman in an attempt to keep his sexuality hidden, a 2009 Daily Mail article states.
"The feared backlash from the group's girl fans did not materialise," Paul Scott wrote just days after Gately's death, continuing on to say he was a victim of homophobic abuse in Ireland, pulling out of buying a home in Kent due to anti-gay chants from teenagers.
Another Irish boy band, Westlife, also boasted a closeted gay member, Mark Feehily. "I am gay and I'm very proud of who I am," Feehily told The Sun in 2005, revealing that he was in a relationship with Kevin McDaid, member of the boy band V, after years of refusing to discuss his personal life. Feehily was also known for making an effort to be seen with women as to avoid speculation of his sexuality. While the main argument behind closeting boy band members is that their female audience will react negatively, Feehily told the Sydney Morning Herald " there had been no negative reaction to his coming out."
Members of boy bands are not the only one's advised against coming out, as Latin pop star Ricky Martin well knows. "Many people told me: 'Ricky it's not important', 'it's not worth it', 'all the years you've worked and everything you've built will collapse', 'many people in the world are not ready to accept your truth, your reality, your nature,'" Martin wrote in a statement on his website. "Because all this advice came from people who I love dearly, I decided to move on with my life not sharing with the world my entire truth. Allowing myself to be seduced by fear and insecurity became a self-fulfilling prophecy of sabotage."
Martin, whose sexuality was under much speculation in the late 1990s and early 2000s after the success of his song, "Livin' La Vida Loca," didn't directly answer the questions of his orientation until 2010.
Though Bass, Gately, Feehily and Martin all did eventually come out, none of them did at the pinnacle of their careers, waiting until they were well entrenched or until after the end of their bands to reveal the truth. Even with the evidence that fans have not lashed out at the stars they worship for being gay. "Capitalism is about making profit, and the pop star is an emblem or a means to make profit," Rehberg says. "Profit works according to the laws of the majority."
The Times They Are A-Changin'
But what about artists who have come out before embarking on their musical career? Adam Lambert never addressed his sexuality while on the eighth season of "American Idol," allowing the media to play the "Is he or isn't he" game and speculating if he could be the first "gay" artist to win the show. He didn't lay the speculation to rest until shortly an interview with Rolling Stone after the show had ended. "I don't think it should be a surprise for anyone to hear I'm gay," the then 27-year-old told the magazine in 2009 before continuing on to start his post-"Idol" career.
"Adam Lambert is a case in point," Rehberg says. "He's historically the first openly gay pop star who, while being gay and open about it, still can score a No. 1 Billboard album."
Though Lambert was initially sold to the teenage girl audience while on "Idol" ("I loved it this season when the girls went crazy for me," he told Rolling Stone in his coming out interview) it is arguable that his current target audience is not the same, which could explain his success as an openly gay singer. His album 'Trespassing' debuted at No. 1 on the Billboard Top 200, something that not even Elton John or Martin have been able to achieve after coming out.
Another artist who may very well show a sign of the changing times is Frank Ocean. Though the hip hop genre is known for its homophobic tendencies, Ocean was able to come out on his blog in July 2012 saying, "4 summers ago, I met somebody. I was 19 years old. He was too. We spent that summer, and the summer after, together. By the time I realized I was in love, it was malignant. It was hopeless. There was no escaping." The post, originally meant for the album liner of  'Channel Orange,' was released just days after the first reviews for the album came out noting his obvious use of male pronouns on several of the love songs.
Russell Simmons, co-founder of Def Jam, congratulated the 24-year-old singer for his courage on Global Grind shortly after he posted the statement. "Your decision to go public about your sexual orientation gives hope and light to so many young people still living in fear," Simmons wrote. "These types of secrets should not matter anymore, but we know they do, and because of that I decided to write this short statement of support for one of the greatest new artists we have."
When asked by Rebecca Nicholson of The Guardian about the risk of coming out, Ocean responded that that risk is subjective: "People are just afraid of things too much. Afraid of things that don't necessarily merit fear. I knew that if I waited I would always have somebody that I respected be able to encourage me to wait longer, to not say it till who knows when."
Though Ocean's confession came just before the release of his album, it still did well, debuting at No. 2 on the Billboard Top 200 and staying on the charts for 15 weeks and counting. (It currently sits at No. 81.) Rehberg however, wonders if it would have done better had he not come out. "Hip hop as a genre has a huge investment in the idea of authentic masculinities, so to be a 'real' man, make experiences as a 'real' man and be tough and exposed to the hardship of 'realness' but surviving it and fighting against it," he says. "Masculinity is much differently stage in hip hop than pop, or even rock, so in that sense, its astonishing that Frank Ocean has had such success. He did well, he peaked at No. 2 on the Billboard charts but disappeared very quickly. But the question is yes, he's successful, but would he have been more successful without that?"